Regular price
$160.00 USD
Regular price
$0.00 USD
Sale price
$160.00 USD
Unit price
per
Sale
Sold out
Finest quality parfum. Limited unisex fragrance comprised of over 18 rare and organic essential oils. Handmade by Saint Rita Parlor in Los Angeles, California.
Notes: Whiskey, Tobacco, and Rose
Rita would tend to her rose garden whilst smoking a hand-rolled tobacco cigarette and drinking a whiskey and water.
60 mL / 15 mL / 5 mL
Share
View full details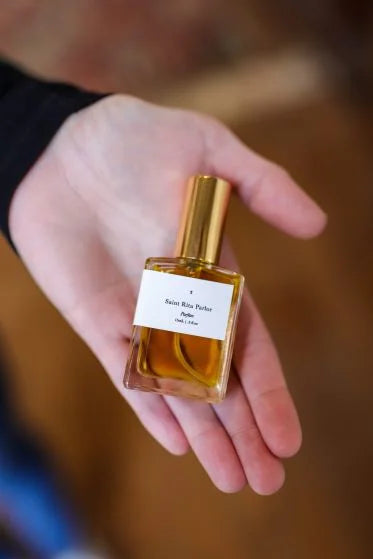 Elegant
This fragrance is the best I had so far. It is better than the ones I had from Grasse. FYI … Cologne is not Parfum and Parfum is not Cologne.
The best!
I've been wearing this for 3 years now! Thank you BOTBD!
The best fragrance ever
This cologne is amazing! Usually after application colognes change and I can stand the after smell.
This scent stays and last a very long time. My husband loves it and reapplies it though out the day. Its AMAZING and he gets so many compliments on it. He keeps a small one in his car so he has it where ever he goes. Thank you for creating this complex and delightful fragrance. It is really THE BEST!
Absolute favorite
Rita's Car is extraordinarily complex. As the previous reviewer wrote, it starts smokey but grows sweeter throughout the day. I imagine this is what George Clooney might smell like.
Beautiful scent
Love the way it smells on my skin. It starts out pretty smoky and get sweeter as it matures. It wears close to the skin. Really beautiful.